More Info
Natural Protein
Filteren Natural Protein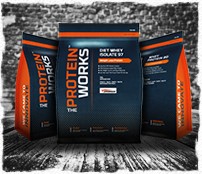 The Natural Protein Collection has been a pillar of THE PROTEIN WORKS™ ever since we launched in December 2012. It started with Europe's first 100% natural whey protein (Naked Whey Protein 80) and it's since grown to include Naked Whey 90 and Naked Whey Isolate 97. Each one being launched in a collection of natural flavours that have been widely praised in both the mainstream and nutrition specialist press.
But why is The Natural Protein Collection so popular? The answer is simple. We were the first sports nutrition brand in the UK to promise to only use 100% natural flavours and colours in all our products. However not content with this we decided to take it one step further and since pioneered the use of Stevia in our naked range. What was created was the purest and most natural shakes ever to hit the sports nutrition market.
Stevia Extract is basically a zero calorie, zero carb sweetener that's made from the leaf of a plant native to South America. This is the 'secret ingredient' in our natural protein range. Whilst most people prefer to use this because of its pure nature, the fact is has a zero glycaemic index also makes our natural protein the preferred choice among people wanting to lose weight too. Especially the Naked Whey Isolate 97 which has been micro filtrated to contain less carbohydrates, calories and lactose.
Naked Whey Protein 80 is het eerste 100% natuurlijke whey proteïnepoeder in het VK dat gemaakt is van 100% natuurlijke smaakstoffen, kleurstoffen, zoetstoffen (stevia) en ingrediënten. Naked Whey Protein 80 is een baanbrekende whey proteïneshake van de beste kwaliteit, het toppunt van onze ongelofelijke toewijding aan zuivere, natuurlijke ingrediënten, maar ook aan echte innovatie.

Naked Whey Protein 90 is een ultrazuiver, 100% natuurlijk whey proteïne-isolaat. Het eerste whey proteïne-isolaat in het VK is ontwikkeld op basis van natuurlijke smaken, kleuren en stevia, een zoetstof verkregen uit planten zonder calorieën. Naked Whey Protein 90 is gemaakt van whey proteïne-isolaat van topkwaliteit met 90% zuivere proteïne en de baanbrekende 100% natuurlijke smaken van TPW™.

Eiproteïne van The Protein Works™ is een belangrijke bron van proteïne gemaakt van 100% zuivere eiwitten. Het bevat van nature weinig vet en koolhydraten en heeft een uitstekend aminozurenprofiel.