Why you love it...
"Hands down the best protein powder I've ever tried. Mixes well and tastes even better!" - Matt*
Why we love it...
Winner of the coveted "Best Protein Award", Whey Protein 80 is the gold standard in premium protein shakes, made simply with 100% pure whey protein concentrate.

Its five star rating comes from its ultra smooth texture, insane range of flavours and instant mixing. You're guaranteed zero after-taste, zero grittiness and the closest thing to a real milkshake.

A single serving contains up to a massive 82% protein and is low in sugar, low in calories, low in fat and low in cholesterol. Its the ultimate protein shake to boost your protein intake any time of day.
NOW 30% OFF! - *SPECIAL OFFER!*
CODE: DEAL30
*Code Valid on Orders Over £15
Frequently Bought With...
Performance Supplement
Amino Acid Powder
Protein Shake
Top Picks
What is Whey Protein 80?
Winner of the highly coveted 'Best Protein Award' in the industry leading FSN Awards, Whey Protein 80 is unrivalled in terms of quality and taste. This unique protein shakes has been developed without compromise using only the finest whey protein concentrate, delivering a massive 82% protein content - that's 20.6g of protein, 1.5g of carbohydrates and 101 calories per 25g serving. It's not by accident, it's known within TPW Towers as 'the mother of all proteins'.
Most protein shakes on the market today are produced by a faceless third party manufacturer, we are different. At TPW, we manufacture all our own protein shakes ourselves right here in the UK in our state-of-the-art production facility. This means we spend a lot of time perfecting every aspect of the product from taste to texture. The range of flavours available in Whey Protein 80 is designed to keep things fresh in your supplement cupboard. Our advice is find your absolute favourite and always have that at hand, but then mix it up with one or two quirky flavours. With so many to choose from, you should always have that "protein o'clock" feeling!
By the way, if you're still not convinced on Whey Protein 80, we recommend checking out Whey Protein 360, our best-selling protein shake which offers a multi-phased release system.
What are the benefits of whey protein 80?
The whey protein is processed at low temperatures to protect the protein fractions and ensure the protein remains in its un-denatured state. The result is a premium grade whey protein that is ideal for protein shakes as it delivers the highest possible nutritional value. Whey Protein 80 is high in BCAAs and low in fat and cholesterol, making it a healthy protein shake to consume any time of day. Amino acids are the building blocks of our muscles and naturally occur in protein and protein has been shown to contribute to the growth and maintenance of muscle mass.
Below are a few of the reasons why TPW Whey Protein 80 is award-winning...
Smooth Texture - our protein shakes are very similar to your favourite milkshake, smooth and moorish, say no more
Insane Flavours - it's what we're famous for in the sports nutrition world, our unique in-house Flavoury means we have the best tasting protein shakes, bar none
Zero After-taste - poorly formulated protein powder can leave a bad after-taste, through painstaking work by our team of nutritionists, you'll be smiling, not grimacing after every sip
Instant Mixability - low quality whey protein never mixes well, it's a red flag straight away, Whey Protein 80 just needs a light shake and you're 100% mixed
No Grittiness - let's face it, nobody wants a gritty shake and due to the purity of TPW ingredients, we guarantee 100% zero grit in your Whey Protein 80
Subtle Sweetness - most shakes are just too sweet after the first few sips, we keep things subtle so you can enjoy your shake time after time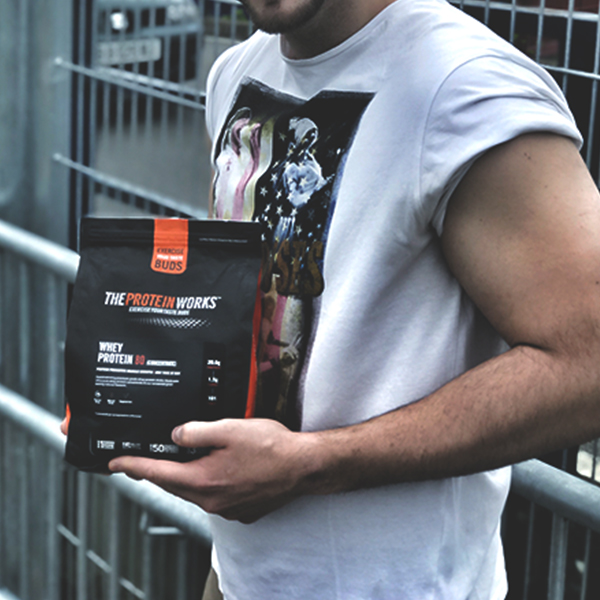 How Natural is Whey Protein 80?
Whey Protein 80 is as natural a food source as you could imagine and has been a staple part of elite athletes diets' for years. Harnessing the power of nature, our whey protein comes from the milk of open-air pasturing grass-fed cows. This provides the very finest protein as research has shown that grass-fed milk contains more linoleic acids and higher omega-3 fatty acids than milk from cows confined to indoor rearing.
TPW Whey Protein 80 provides the reassurance of being pure and natural...
Ultra Pure Recipe - Whey Protein 80 is made with only the finest whey protein concentrate
Sourced From Milk - whey protein is sourced from sweet cheese which is ultimately sourced from milk
Grass-Fed Cows - for optimal quality, our whey comes from field pastured, grass-fed cows
Zero Aspartame - we NEVER use aspartame in any of our products due to the negative research around it
Simply Mix with Milk or Water - it's entirely your choice, but all you need add is milk or water to create an amazing shake
When should I use whey protein 80 Powder?
Whey protein shakes can be consumed pretty much any time of day, although for optimal results we recommend consuming within one hour of your workout. This is known as the "golden hour" when your body and muscles are starting to repair. Recovery in any sport is key to performance. The incredible properties of Whey Protein 80 mean it can be taken at any time that works for you to boost your protein intake and prevent you diving for the chocolate box!
We often get asked 'If I haven't taken my protein shake after working out, will I lose my gains?' and the answer to that is no. Yes, your body does need an increase in protein and it will help you recover and gain quicker in the long run, but as long as you maintain your protein levels throughout the day consuming 3-5 servings your body will be able to store and use the protein when needed and help you achieve your dream physique.
Who is whey protein 80 Powder Suitable for?
Whey Protein 80 is suitable for everyone, for those wanting to build muscle mass or simply want a sweet drink or snack that packs a punch and is low in calories, low in lactose, low in sugar and low in cholesterol. It's therefore perfect for individuals on a calorie controlled diet. We'd always recommend using it in conjunction with a varied and balanced diet and a regular exercise routine.
WHAT'S THE BEST FLAVOUR WHEY PROTEIN SHAKE?
Whey Protein 80 is made from the finest premium grade whey protein personally selected by us for its ultra-pure properties. It is manufactured at our state-of-the-art facility right here in the UK with our widely acclaimed flavours to create the finest quality whey protein shake. As we produce all our protein formulas ourselves, each whey protein offers the ultimate in freshness.
What is the optimal amount of protein to consume?
For the physically active, it's advised to have 1.6 - 2.0g of protein per kg of body weight. ie. someone who weighs 80kg would need to aim to have 128g - 160g of protein per day. Splitting this up throughout the day is the best way to optimize your protein intake.
How is Whey Protein Concentrate Made?
Produced in-house at our own state of the art facility in the UK, it offers unparalleled levels of protein purity and has been independently tested for the ultimate peace of mind. We don't make big claims about our products, we prefer to let customer ratings, reviews and feedback do the talking for us. We also offer an unprecedented LIFETIME GUARANTEE on every product you buy from The Protein Works™. Whey Protein 80 protein shake is supplied in a re-sealable foil pouch to ensure freshness and a FREE scoop is included in every product. Why not couple your Whey Protein 80 with BCAA or Creatine Monohydrate for that extra boost to your health and fitness regime?
* Disclaimer: Customer reviews are independent and based on personal experience. Individual results may vary. Products designed to be taken in conjunction with a balanced diet and training plan. Nutritional Information per serving based on unflavoured
Heb verschillende merken protein geprobeerd en the Protein Works is mijn favoriet. Mengt heel goed (geen vies geklonter zichtbaar) en smaakt goed gewoon met water/melk of in een smoothie.
Ik heb chocolate silk geprobeerd en het mixed goed en smaakt prima. Deze shake gebruik in mn ochtend mix en in mijn huisgemaakte brownies.
Heb cherry bakewell protein geprobeerd afelopgen dagen en blijf het maar lekker vinden. Mixt heel goed met water en melk, geen klontjes of stukjes op de bodem en ook nauewlijks schuim, zelfs met melk!
Met melk smaakt het naar romige kersen en met een amandel nasmaak. Met water smaakt het net wat frisser en ook een vleugje amandel achteraf.
Uitstekende kwaliteit, je krijgt waar je voor betaald!
Van verpakking tot klantenservice en prijs/kwaliteit ... beter dan welke dan ook...houden zo!
Heerlijke (beetje zoetige) protein drankje. Kan nog niet veel zeggen over het effect, maar aardbei smaakt in ieder geval erg goed. Denk dat ik Choc maar ga poberen volgende keer.
Portie: 25 g (een grote schep van 70 ml) Whey proteïne 80
We raden 3 tot 5 porties Whey proteïne 80 per dag aan, afhankelijk van je eigen individuele behoeften. Er wordt algemeen aanbevolen dat je 1 gram proteïne per pond lichaamsgewicht per dag neemt voor de beste resultaten.
Voeg 150 à 225 ml water of melk toe aan je TPW™ Master Blender. Voeg een grote schep (25 g) Whey proteïne 80 van 70 ml toe. Vervolgens goed mengen en opdrinken.
Hoe minder vloeistof je gebruikt, des te dikker je shake zal zijn. Je kunt de dikte dus aanpassen aan je eigen voorkeur.
Typisch dagelijks gebruik van Whey proteïne 80:
1 portie na het ontwaken
1 portie 30 à 45 minuten vóór de training
1 portie onmiddellijk na de training
1 portie tussen de maaltijden in
1 portie voor het slapengaan
V. Wanneer kan ik Whey proteïne 80 het best consumeren?
A. Dat hangt af van je levensstijl en je doelstellingen, maar we bevelen de volgende optimale consumptietijden aan voor Whey proteïne 80: Onmiddellijk na het ontwaken. 30 minuten vóór de training en onmiddellijk na de training. Voordat je gaat slapen. Op gelijk welk ander moment tijdens de dag wanneer je meer proteïne nodig hebt.
V. Hoeveel Whey proteïne 80 moet ik consumeren?
A. We bevelen 2 tot 5 porties per dag aan, afhankelijk van je eigen individuele behoeften. Met een portie bedoelen we 25 g (één maatschepje) whey proteïneconcentraat. De aanbevolen hoeveelheid is 1 g proteïne per pond lichaamsgewicht, dus je kunt je ideale consumptie zelf berekenen.
V. Wat is Aminogen® en waarom zit het in Whey proteïne 80?
A. Aminogen® is gebaseerd op planten en is vrij van allergenen. Dat bewijst nogmaals dat we altijd de meest geavanceerde formules voor sportvoeding willen ontwikkelen die tegenwoordig op de markt beschikbaar zijn.
V. Zijn alle whey proteïneconcentraten hetzelfde, ongeacht het merk?
A. We vinden dat jij als klant niet alleen het recht hebt om het beste te eisen, maar ook om zeker te weten dat je het beste krijgt. Helaas zijn niet alle proteïnen van dezelfde kwaliteit! We willen transparantie en openheid in al onze producten. Daarom publiceren we de volgende informatie op de verpakking van al onze proteïneproducten: 1. Productprofiel: een volledig overzicht van de achtergrond van het product, inclusief onze goedkeuring, plaats van fabricage en geld-terug-garantie. 2. Inzicht in proteïne: een volledig overzicht van de typen en hoeveelheden proteïne in het product 3. Producttests: een actueel certificaat als bewijs van de onafhankelijke verificatie van het proteïnegehalte. Als je dus niet bij TPW™ koopt, raden we je ten sterkste aan om deze informatie bij je huidige leverancier op te vragen. Zo eenvoudig is dat!
V. Hoe weet ik of de proteïne die ik gebruik van goede kwaliteit is?
A. Het belangrijkste is het proteïnegehalte dat op het etiket is aangegeven. Zoek naar whey proteïneconcentraat van minimaal 80%. Niet-gearomatiseerd, zuiver whey proteïneconcentraat moet smeuïg zijn, met een neutrale zuivelsmaak. Het moet gemakkelijk te mengen zijn en mag slechts ietwat schuimen. De beste manier om de kwaliteit na te gaan, is op basis van de resultaten die je behaalt als je het product neemt.
V. Bevat jullie gearomatiseerde Whey proteïne 80 kunstmatige smaak- en kleurstoffen?
A. We houden het graag zuiver, dus je hoeft je geen zorgen te maken over kunstmatige kleur- en smaakstoffen. Die vind je niet terug in producten van TPW™. En dat is geen verkooppraatje, dat is een belofte!
V. Is Whey proteïne 80 geschikt voor vegetariërs en veganisten?
A. Whey proteïne 80 is geschikt voor vegetariërs, maar niet voor veganisten.
V. Kan ik Whey proteïne 80 combineren met andere supplementen?
A. Ja, dat is geen probleem. We raden je aan om altijd de instructies op elk product te lezen als je producten wil combineren. Whey proteïne 80 wordt vaak gecombineerd met creatine, zuiver havermout, BCAA en glutamine.
V. Kan ik te veel proteïne nemen?
A. Als je het teveel aan calorieën uit de extra proteïne niet verbrandt, kan dat leiden tot meer lichaamsvet. Er zijn geen andere neveneffecten gemeld.
V. Hoe maak ik de perfecte whey proteïneshake met Whey proteïne 80?
A. Je moet met een paar aspecten rekening houden als je de perfecte proteïneshake wilt maken. Ten eerste heb je een kwaliteitsproteïne nodig, zoals onze Whey proteïne 80. Je hebt ook geen goede blender nodig, geen shaker. We raden de TPW™ Master Blender aan. Giet je gewenste hoeveelheid vloeistof in de blender. Houd er rekening mee dat melk voor een romigere shake zorgt, maar als je water gebruikt, heb je minder vet dan met melk. Doe één schepje proteïne in de vloeistof, schroef de dop erop en schud goed. Het is eigenlijk simpel, maar volg wel de basisprincipes en je kunt nog jaren heerlijke shakes maken.
V. Hoe weet ik hoeveel Whey proteïne 80 in een proteïnemengsel of formule zit als het niet op het etiket wordt vermeld bij de andere proteïnebronnen?
A. Eerlijk: dat kun je niet weten! Sommige merken die geen scrupules hebben, zetten het proteïneoverzicht van de proteïnetypen en hoeveelheden in hun producten niet op de verpakking. Verschillende typen proteïne vergen verschillende hoeveelheden en kunnen sterk verschillen van kwaliteit. Als gevolg van de samenstelling van het product is het mogelijk om een hoog proteïnegehalte te verwezenlijken en op het etiket te vermelden door verschillende typen proteïne en grondstoffen van lagere kwaliteit te gebruiken. Indien een hoog proteïnegehalte op een proteïneproduct vermeld staat, maar het product ongelooflijk goedkoop is, dan moet je de geloofwaardigheid van het product ernstig in twijfel trekken. Wij zijn een van de weinige merken in het VK dat zijn producten intern produceert. We weten dus veel over proteïne en sportsupplementen. Daarnaast duiden we ook de hoeveelheid proteïne in elk product van TPW™ aan. Geen nonsens, geen afleidingsmanoeuvres, maar volledige transparantie van TPW™ over wat je in handen krijgt.
V. Zal ik neveneffecten ondervinden als ik Whey proteïne 80 eet, en zo ja, welke?
A. We hebben nog geen meldingen gekregen van vervelende neveneffecten bij het consumeren van Whey proteïne 80. Als je niet allergisch bent voor zuivelproteïnen en als je je inname van zuivelproducten niet om medische redenen moet beperken, is er geen probleem. Als je allergisch bent voor zuivelproteïne, raadpleeg dan eerst je dokter voordat je whey proteïne consumeert.
V. Zijn er voedingswaren die whey proteïneconcentraat bevatten?
A. Nee, er zijn geen voedingswaren die whey proteïneconcentraat bevatten. Er zijn veel voedingswaren die veel proteïne bevatten, zoals rood vlees, kip, kalkoen, vis, eieren en kaas.
V. Welke effecten mag ik verwachten van de consumptie van Whey proteïne 80 naast mijn trainingsregime?
A. De resultaten hangen af van je dieet, je voeding, je training en je individuele lichaamstype.
V. Wie moet Whey proteïne 80 nemen? Voor wie is het interessant?
A. Bodybuilders en krachtsporters / duursporters / iedereen die een gecontroleerd dieet volgt voor gewichtsverlies / iedereen die pas begint met krachttraining / mensen die aan teamsport doen