Filteren Non-Dairy Protein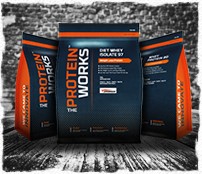 TPW™'s Non-Dairy Protein range offers a form of nutritional salvation for many people. This is because it contains proteins such as Brown Rice Protein 80, Soy Protein 90 and Pea Protein 80 which are all ideal for people who suffer from certain food intolerances. Essentially, Non-Dairy Protein allow athletes and people who train to meet their elevated protein requirements without the digestive discomfort or nutritional complications.
But lactose intolerance and dairy intolerance aside, the TPW™'s Non-Dairy Proteins are also a great alternative for people wanting to change up their protein sources and intake. This is because constantly using whey protein as your source of protein means that your muscles and body as a whole only receives a certain amino acid profile. But by 'mixing it up' and adding a Non-Dairy Protein to your supplement routine you can offer the body an array of amino acids in a different ratio.
Put simply, not all protein is created equal. They differ in absorption rates, Biological Availability and their amino acid profile. The Non-Dairy Protein Hemp Protein is a prime example. Considered by many to be nature's all-in-one it's rich in vitamins, minerals and essential fatty acids. This is why so many TPW™ customers love the Non-Dairy Protein and why we'll constantly look to expand it.
Finally, as with all products in the TPW™ we are always looking for ways to improve it. So if you have an idea for a product, flavour or any innovation at all for the Non-Dairy Protein please take to Twitter, Facebook, Instagram or Google Plus and let us know.