Filteren Diet Whey Protein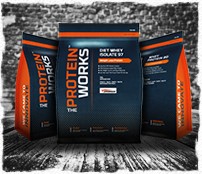 Diet protein shakes are traditionally used by people who require a little additional supplement support to lose weight. Many people from THE PROTEIN WORKS™ community tend to use a low calorie, low carbohydrate single-source protein like whey protein isolate. But equally, many will favour a more comprehensive formula made from protein powder with additional ingredients. Like Diet Whey Complex which contains the heavily researched CLA and a premium-grade source of Green Tea. Basically, here at THE PROTEIN WORKS™ we have all bases covered. Every protein shake you could think of to help fit into your diet.
Specifically the Diet Whey Protein range section of THE PROTEIN WORKS™ website is for our premium-grade single source diet proteins. Those whey protein powders that have undergone advanced microfiltration technology to ensure they contain less carbs, calories and lactose. What's left is an incredibly pure form of whey protein like our Diet Whey Isolate 97 and Naked Diet Whey Isolate 97. To put it more simply, they are an advanced and scientifically treated form of our whey protein which we became famous for. Like it's leaner, lower calorie sister (or brother).
It's also important we stress we innovate, formulate and manufacture everything in house. This means the Diet Whey Protein Range is proudly manufactured to the exact same high standards as our best-selling Peanut Butter and innovative Protein Bars. Essentially, we are passionate and committed to offering the highest quality and the widest range of products at exceptional value for money. Which is why our diet shakes are celebrated in the fitness and nutrition media.
Finally, we were the first sports nutrition brand to offer total assurance that we will never use thickeners or fillers in our shakes, as well as always using all natural colours and flavours. The use of natural ingredients is not only kinder to your body, but it also gives a more natural tasting protein drink. We provide independent Certificates of Analysis on each product, which offers independent verification of the quality of each batch of whey we produce. Essentially, you always know exactly what is going into your TPW™ protein shaker.
Diet Meal Replacement is a high protein, nutrient dense, meal replacement shake specifically designed to contribute to weight loss. It combines the very latest sports nutrition research and our taste-busting natural flavours into one best-selling protein shake. It's unique multi-protein source formula includes premium whey protein, milk protein and Prolibra®.

Diet Whey Isolate 95, also known as Native Whey, is an ultra pure whey protein isolate renowned for having a very high protein content at 27g per serving, and the lowest sugar and fat content of any protein on the market today. It has been designed specifically for anyone looking to decrease their calorie intake and lose weight. It has less than 1g of fat and less than 1g of carbs per 30g serving and uses advanced membrane technology to create an ultra-pure form of whey protein.

Diet Whey Isolate 97 is the purest whey protein isolate, renowned for having the highest protein content and lowest carbohydrate and fat content of any protein in sports nutrition today. It is designed specifically for anyone dieting or looking to decrease their calorie intake, but what's more, it's a very rare breed of protein shake... Why? Well, it also stands proud and boasts a completely lactose free nutritional profile. It's the only Whey Shake at TPW Towers to lay claim to such an awesome feat, and so bang for buck is one of the best value whey protein isolate shakes on the market today... period!