More Info
Weight Gainer
Filteren Weight Gainer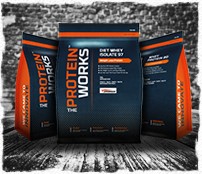 Weight Gainer protein shakes from THE PROTEIN WORKS™ are renowned for being incredibly nutrient dense as well as calorie dense. What's left is a collection of scientifically formulated Weight Gainer formulas that support even the most gruelling of strength-based training routines. This is very different to most other weight gainer shakes on the market which are loaded with cheap calories which then sacrifices its nutrient profile. At TPW™ we do things very different.
This is because we understand that to increase muscle mass it's not as simple as consuming a huge surplus of calories. Yes, you may build muscle but you will also put on unwanted fat too. This is why every single formula in the TPW™ Weight Gainer section has been nutritionally created. Not to solely increase unwanted 'bulk' but with a goal to create a formula that supports your lean muscle goals.
Notable ingredients like medium chain triglyceride powder is used. A very recent innovation in the sports nutrition market many athletes have been using MCT powder as a way of moving up weight categories in strength based sports. This is why this along with our premium grade creatine, whey protein and multi-carb dense blends have been blended together to form some absolute gems in the TPW™ crown.
Total Mass Matrix is een calorierijke weightgainer ontwikkeld voor iedereen die de omvang van zijn spieren wil doen toenemen en spiermassa wil opbouwen. Met meer dan 450 calorieën per portie en meer dan 40 g proteïne is Total Mass Matrix-weightgainer de ideale proteïneformule om op een gezonde manier te zorgen voor meer gewicht, massa en grootte, zonder vet toe te voegen.

Total Mass Matrix Extreme is de meest calorie- en nutriëntrijke formule voor gewichtstoename uit het TPW™-laboratorium. Het bevat een mengsel van drie verschillende proteïnen dat meer dan 65 g proteïne en meer dan 1000 calorieën per portie oplevert. Total Mass Matrix Extreme is ontwikkeld om bij te dragen aan de groei van spiermassa.