Filteren Recovery Protein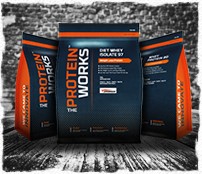 The Recovery Protein section of THE PROTEIN WORKS™ website is not surprisingly one of the most popular. This is because protein as a macronutrient is of course traditionally associated with recovery, repair and regrowth of the body. A key area that needs nutritional support especially for athletes or those who follow an active lifestyle. But whilst protein itself is generally considered a "recovery protein" this area of the site was created for those that have been scientifically formulated for that exact purpose.
The best example of this is our aptly named Recovery Protein that contains protein and carbohydrates in the perfect ratio that's considered optimal for recovery by the often quoted sports nutrition bible, "The Complete Guide to Sports Nutrition." It's also been enhanced with amino acids and extracts that have been the subject of thousands of studies in the area of recovery enhancement.
Finally, the entire THE PROTEIN WORKS™ product line is forever evolving and expanding. The Recovery Protein section of the site is no different. Which is why we always invite anyone with any ideas to take to social media (Twitter, Facebook, Google Plus or Instagram) and let us know your suggestions. It doesn't matter what sports background and whether strength-based or endurance-based we want to hear them. As we always say, the door to the TPW™ lab is always open.
Whey Protein 360 is a premium protein shake that breaks new ground in protein formulation and flavour. It has been specifically designed to work with almost any fitness or body goal as its high in protein and low in sugar. Whey Protein 360 is ultra pure, natural and made with the very finest protein sources. We guarantee you won't find a better tasting protein shake on the planet.

TPW™ 100% Whey Advanced is an innovative, amino dense, premium whey protein blend designed and produced exclusively by THE PROTEIN WORKS™. Made from whey protein concentrate, whey protein isolate and hydrolysed whey protein, it delivers a controlled tapered release of protein.