Diet Meal Replacement Extreme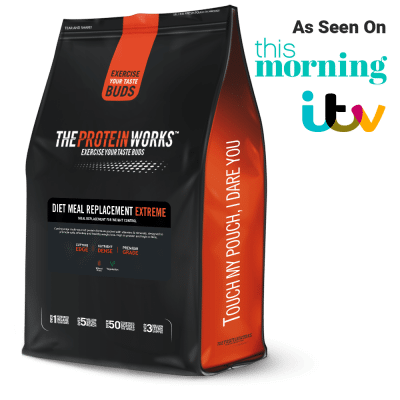 Diet Meal Replacement Extreme
Dieetmaaltijdvervanger van TPW™ is een maaltijdvervangende shake vol eiwitn en voedingsmiddelen die speciaal bedoeld is om je te helpen vet te verliezen. Hij is geformuleerd met een mengsel van meerdere eiwitbronnen dat bestaat uit whey eiwitconcentraat, melkeiwit en Prolibra®.
De dieetmaaltijdvervangende shake is verrijkt met vitaminen, mineralen en actieve ingrediënten voor vetverlies zoals groene matcha-thee, acetyl-L-carnitine en Clarinol® CLA van de beste kwaliteit. We hebben ook konjacglucomannaan opgenomen, een vorm van vezels die oplosbaar zijn in water en die volgens studies bijdragen tot gewichtsverlies.
Maaltijdvervangende shake vol voedingsstoffen
Rijk aan eiwit en verrijkt met vitamines
Ontwikkeld om te helpen met vetverlies
"So delicious, I have this to replace my lunch and it keeps me full until tea time! No stodgy cravings, I feel super satisfied" – Charlie

Diet Meal Replacement Extreme is the ultimate meal replacement shake. This advanced formula is high in protein, low in calories and packed full of vitamin and minerals.

A cutting edge combination of both slow and rapidly digesting protein, low GI carbohydrates and high fibre. Diet meal replacement extreme will help you lose weight, maintain muscle mass and keep hunger at bay for longer.

Consistency is key when trying to lose weight, this is why we prioritise taste and consistency. With a complete range of flavour options, we are confident this is an accomplice for your weight-loss journey.

Our new best ever tasting formula is now available with Flavour-Boost technology. Please note this new formula is not suitable for Coeliac's.